Amongst the plethora of conferencing devices the Neat Frame is a little different. Neat Frame packs powerful technology into an all in one compact and convenient meeting device that enables you to free up your computer for other tasks.
Choose from Zoom or Microsoft Teams versions.
Full Specifications
15,6-inch capacitive multi-touch LED screen
450 NITS Screen
Resolution 1080×1920, 60Hz
Anti-glare and anti-fingerprint coating
Camera LED
System LED
Ambient light sensor
Depth sensor (time-of-flight VGA 60° FOV)
Temperature sensor
Humidity sensor
Air Quality sensor
Tripod mount (1/4-20 UNC threads)
Privacy shutter
Audio
Be heard without worrying about what's going on around you. The 3x mic array and Neat audio processing algorithms emphasise your voice while removing background noise and the sounds you make, like typing on your keyboard. It also eliminates garbled 'double talk' issues, so conversations flow more naturally.
A front-facing tweeter and woofer give you a rich reproduction of people's voices.
Two-way loudspeaker system with minimal distortion
1 tracking mic
3 microphones angled in an end-fire array
Support for wired and wireless headphones
Hardware accelerated audio processing
Beamforming
Echo cancellation
Noise suppression
Automatic gain control
Dereverberation
Video
Every subtle gesture.
The 15.6-inch portrait screen provides an optimal layout balance, enabling more direct conversation in larger meetings, picking up every facial expression or gesture with a brilliant 450 nits of brightness.
8x digital zoom
50MP capture resolution
113° horizontal field of view
Automatic people framing
Hardware accelerated video encode and decode
Distortion correction
Noise reduction
Chromatic aberration correction
Automatic white balance and colour correction
People video resolution: Up to 1080p / 30
Content video resolution: 720p / 60, 1080p / 30
Security
Security lock slot
Secure boot
The Zoom Rooms app is secured with App Lock Code
Communications are established with 256-bit TLS encryption
Shared content is encrypted with AES-256 encryption
As a native Zoom device Neat Frame supports all Zoom signaling and media encryption protocols.
Electrical and environmental requirements
Built-in power supply
100-240V ~ 50/60Hz 2.5A
Ambient operating temperature: 32° to 95° F (0° – 35° C)
Storage temperature: 5° – 149° F (-15° – 65° C)
Relative humidity: 20% to 80%
Network standby: 8W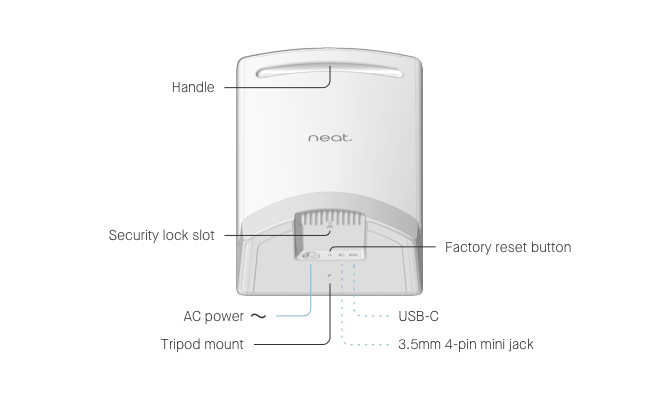 Networking & ports
WiFi
Bluetooth
AC Power (internal power supply)
USB-C
4-pin mini-jack
Privacy cover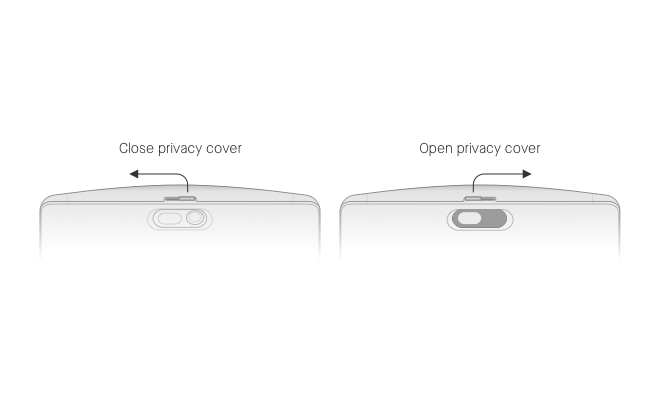 Size & weight
Width: 222 mm
Height: 445 mm
Depth: 111.2 mm
Weight: 3.45 kg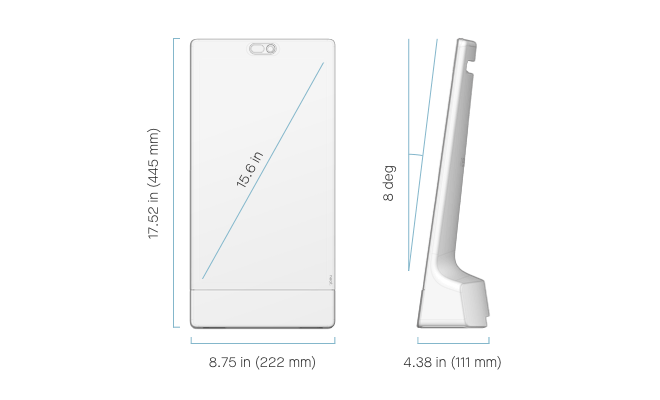 The Neat Frame is available for pre-order from ICS Technologies. Other Neat products may become available in the future. Contact us through the website or call on 1300799115.